The Gladiator X Goddess Journey
Grit.
Intensity.
Performance.
Improve your strength and endurance, break bouts of mediocrity and plateaus.  The Performance Tempel games gives you the power to set courageous goals, track your progress, and compete socially for gladiator and goddess status. This is where guts intersects with glory. 
5 weeks.
your work ethic, Your execution.
youR RESULTS.
The Performance Tempel games are a 3-tier Gladiator & Goddess journey, where you use your day to day training, and how often you workout to prepare for the unknown weekly climax WOD. Here, victory isn't won on athletic fitness alone. Scoring is merited in consideration of:
PERFORMANCE IS MORE THAN FITNESS
This important feature makes the Performance Tempel games equitable for anyone regardless of their level of fitness because it aims to test grit, intensity, and condition relatively.
Unlike any other, this competition is about the conquest. Yes, there are rewards to be secured at the end, but the results of progressing past where you start is the real bag. The reward is in the work. Don't cheat yourself.
THE COMPETITION
Remember: Monday thru Friday belongs to you. You set the tone and pace of your workouts. On Saturday, you along with your Gladiator and Goddess cohorts complete Performance Tempel's climax benchmark WOD.
Like the name suggests, these workouts are the peak of the week. The workouts' intensity are inspired by hip hop/soul/r&b bangers and matched with a mixtape to motivate you to max out. Keeping it fair, these workouts are not given out in advance.
THE SCORING
Points are awarded for a.) daily workout completion, b.) finishing tier in competition WOD , and c.) the incorporation of these 7 movement types in weekly training:
sit-up
burpee
pull up or toes to bar
45lb+ weightlifting deadlift or squat (any variation)
45lb+ powerlifting (clean, snatch, jerk or thrurster)
20 min yoga/dynamic stretch/recovery flow
3 mile run or 300 cal bike/elliptical/row
Leaderboards are posted each Sunday.
"When performance is measured, performance improves. When performance is measured AND reported, the rate of improvement accelerates."
— Thomas S. Monson
SOCIAL
Hold yourself accountable by making your goals public. These games use social media to foster our fit family  bond and to inspire accountability.  You'll be required to post content to your Instagram story.
 You increase your chance of successfully reaching your goal by 95% when you have a specific accountability appointment with people. 
Get your followers involved. Post your goals, training program, workouts, and results to your Instagram story to inspire them with a real person, doing real work. Show your strength. Don't just post the highlights, give them the reality of what the journey looks like from beginning to end.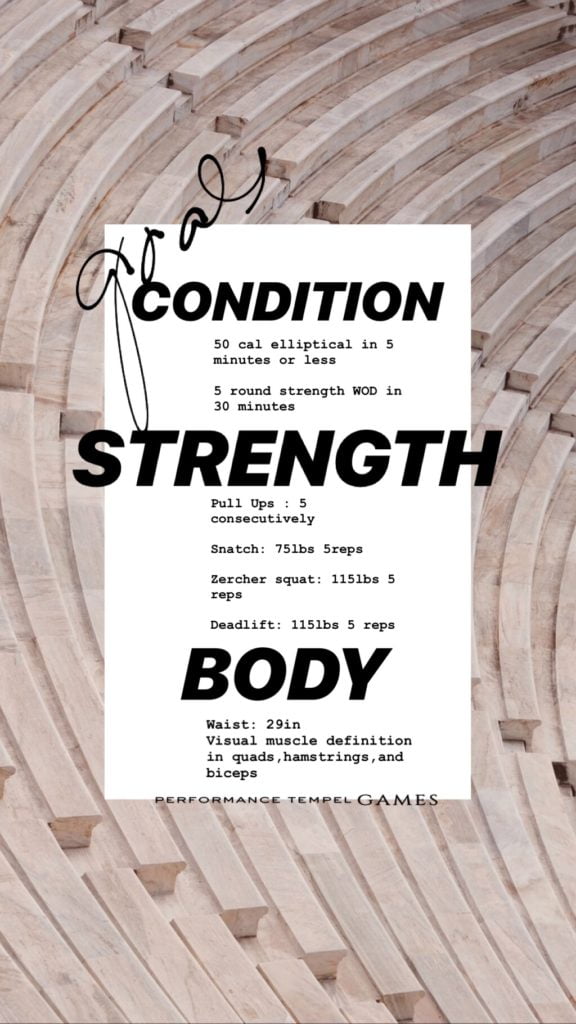 Member with benefits
Registration
Performance Tempel Members with benefits is a $45 full year digital strength and conditioning support. Members receives access to the app, exclusive content, merch, discounts, and programing/participation in challenges or games at no additional registration cost. Click the button to sign up or learn more.
+ Have some sort of digital fitness tracker/heart rate monitor that will validate your workouts. 
+ Post spontaneously through out the #PTGames on IG stories for accountability. 
+ Must incorporate weightlifting into training
+ Must have access to a home gym or traditional gym with standard equipment
+ 18 years or older
+ Follow @performance.tempel on Instagram