$45.00 / year
Sharpen your individual focus with the accountability and camaraderie of a fit fam. Being a member with benefits costs less than yearly gym fees and is here to help you successfully reach your goals. It's a level up to hold you accountable and a tap into constantly updating intelligent resources for strength and conditioning.
Members receive access to the app, exclusive content, merch, discounts, and programing/participation in challenges or games at no additional registration cost.
Available Elite M.O. Hoodie Colors: Black (white text)  & Dark Heather (black text)


Description
Benefits
?Personalized M.O. Hoodie.- Decide what text will appear on the back of your hoodie ( 20 character limit) OR opt for a Resistance Band Set if you already have a Performance Tempel hoodie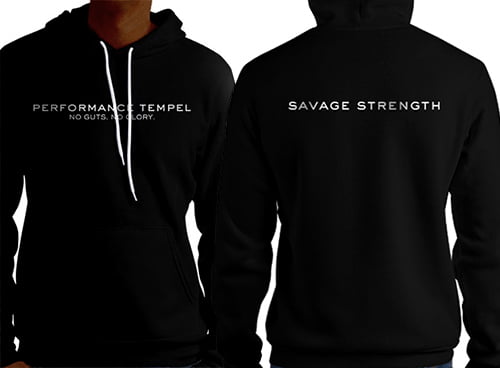 ?Full Year Access to:
No additional cost for participation to join or download any Performance Tempel program/games.
Team accountability. This is your fit fam. Get training advice, motivation, and real talk insight from people who are on their own journeys that may help you with yours.
Weekly push emails. Get an injection of reality each week to urge you to recover and propel you to perform.
Recipe archive ( Three categories: vegan, low carb, and savory. All macro nutritional information provided)
?Pop up private sales on collections and equipment.
Additional information
| | |
| --- | --- |
| Hoodie Size | X-Small, Small, Medium, Large, X-Large, 2XL |
FAQ
Can I cancel my membership?
Canceling or Suspending your membership is hassle free. And can be done from the membership dashboard.  Canceling your membership before your yearly renewal date will still allow you to access membership benefits until your paid for year expires. Cancelling before your renewal date will not prorate a credit or refund to your account.
**Please note: After cancelling your membership,  you can reactivate your membership again by visiting the membership dashboard.
To completely have your membership profile removed after cancellation please send your removal request to guts@performancetempel.com.
Can I buy two memberships?
Certainly. But each membership will need separate accounts. If you'd like to gift a membership to someone please email Ashley at guts@performancetempel.com 
Is there a trial I can experience before signing up for the membership?
Get a taste for the Performance Tempel experience by subscribing to peruse the knowledge base, read monthly insights OR purchase a strength and conditioning program.
Do I get to preview my personalized hoodie?
After signing up, you will receive an image proof confirmation of your personalized hoodie the next business day. You must approve/make changes within 48 hours of receipt (all orders unapproved in 48 hours will receive a hoodie without personalized text).
How Long Will It Take To Get My Hoodie?
Allow 8-10 business days for it to be created and arrive at your door. Each hoodie is custom made and ships 2-day priority after fulfillment. Once your hoodie ships, a tracking number will be sent to the email associated with the order.